Gesame Burger Machine MH Super 114
Call (800) 572-4728 for best pricing

Request a quote for this Gesame Burger Machine MH Super 114
"*" indicates required fields
Description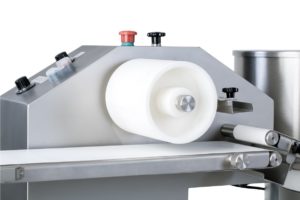 It allows round portions from 40mm up to 115mm. oval burgers and special shapes. Thickness is adjustable from 20mm. up to 30mm maximum.
Thereafter the portions can be conveniently flattened with the roller (gourmet burger style).
Approximate production per hour: 3600 burgers or 6000 meatballs.
Equipped with 2 speed controllers.
Safety micro switch on the lid and on the conveyor belt.
Forming machine motor: 0.50 HP
Conveyor belt motor: 0.12 HP
Power supply: Single phase
Low voltage movement (24v)
Tank capacity: 24 liters.
Sizes: 630x1200x1370 mm.
Weight: 167 Kg