3 Ways Investing in Training Benefits Your Team and Your Business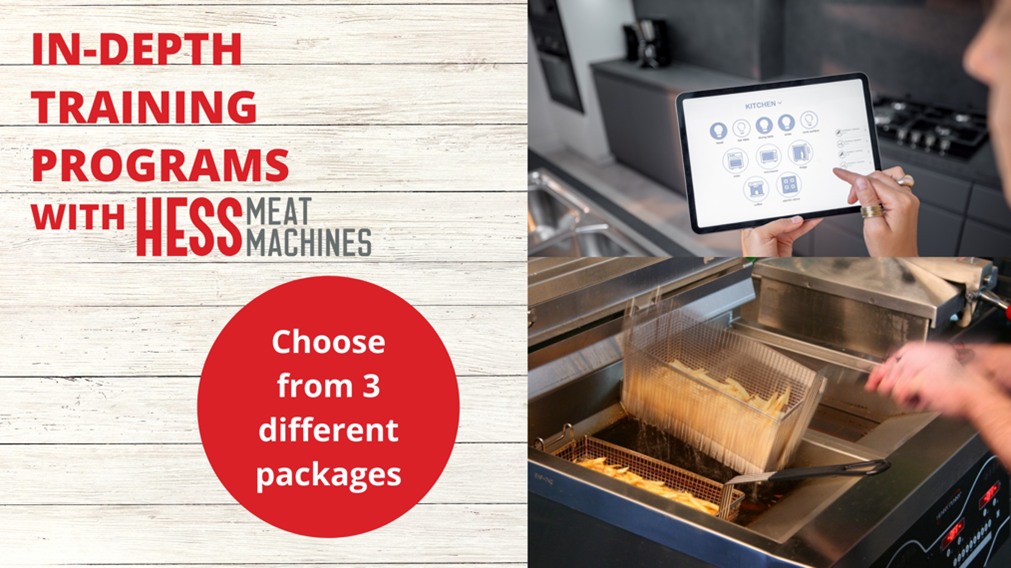 We all know that the food service industry is a high-energy, fast-paced, people-heavy environment that requires patience, endurance, and resilience. Once you've hired the right people, it's important to hold on to them — not just because of the current staffing crisis, but also because of the time required to train them on your equipment.
Sometimes it can feel like you spend more time training, and retraining, than on your day-to-day responsibilities. That's where Hess Meat Machines' 75+ years in the industry can help your business flourish. Continue reading to find out the three ways that investing in training can benefit your team, all while creating a fluid partnership that will reduce turnover and lead to efficient, effective results.
1. Ensure your equipment is up to date.
Whether you're setting up shop or replacing worn-out products, you need the right tools to set your staff up for success! You've worked hard to gather a competent team – make sure your appliances are serviced and ready to help them be as efficient as possible.
This starts by determining what you need — whether it's equipment that's automatic, timesaving, auto-cleaning, or simply the most efficient for your space. Ask yourself: "What will help my staff meet our business goals?" Then, find the right equipment that brings the two together.
2. Put a repeatable training plan in place.
Inadequate training is one of the top reasons for staff turnover. Proficient teams don't happen overnight; they require a commitment to development and a seamless partnership between you, your staff, and your equipment.
Once your kitchen is furnished with equipment that suits your business needs, develop a staff training program. This will allow your well-trained employees to feel more valued, more confident, and happier in their jobs — and therefore, less likely to leave. On top of that, in-person staff training helps your team fully understand the workings of your food service equipment — prolonging the life of your products.
3. Schedule recurring training sessions.
Providing effective training and retraining for the life of your products is one of the ways you can keep your team and kitchen running like a well-oiled machine. By making a commitment to your staff, you not only keep them safe and keep your equipment in good condition, but you also establish a sense of ownership and accountability within the team as well.
By investing in training, you set your business up for long-term success with a high-performing team by your side. Hess training programs will help you create a natural cycle of training, retraining, and routine maintenance. We're here to partner with you to prolong the life of your equipment and your team. Ready to invest in your business? Contact us today to set up your free, onsite consultation.