HIGH VOLUME KITCHEN EQUIPMENT SERVICE & REPAIR
Providing high-quality repair service so you can provide high-quality food service.
OUR SERVICE TEAM KEEPS YOUR KITCHEN IN TOP FORM
At Hess, we know your commercial kitchen's success hinges on the seamless operation of your food service equipment. We offer comprehensive high volume kitchen equipment service and repair to ensure your kitchen never misses a beat.
Our team of certified commercial kitchen equipment technicians brings a wealth of experience and expertise, providing prompt, efficient service to minimize downtime and keep your kitchen running at peak performance. We're not just service providers; we're your partners in success, committed to keeping your equipment — and your business — up and running.
Trust us to keep your kitchen in top form so you can focus on what you do best: creating unforgettable dining experiences for your customers.
Contact Hess to discover the difference a supportive food service partnership can make.
INVEST IN PREVENTATIVE MAINTENANCE
Hess can help identify issues early to avoid costly repairs.
We don't stop at high volume kitchen equipment maintenance and repair. Hess believes in proactive care to extend the life of your food service equipment and maximize its efficiency and uptime. Our preventative maintenance plans are designed to spot potential issues before they become costly problems, saving you time, money, and stress. And with our on-call technical support, you're never alone when a problem arises — we're always just a phone call away. 
In the fast-paced, high-pressure world of food service, equipment failure can be a significant setback. When commercial fryers, combi ovens, or industrial meat smokers break down or malfunction, it can disrupt your entire operation. A malfunctioning fryer can lead to inconsistent food quality, with undercooked or overly greasy meals. When a commercial smoker can't maintain the right temperature, it can affect the flavor and texture of your smoked foods, disappointing your customers and potentially damaging your business' reputation.
Moreover, equipment failure can lead to increased costs. You have to deal with not only the expense of emergency food equipment repairs or replacement, but also the cost of wasted food and lost business. And then there's the impact on your staff, who may have to work harder and longer to compensate for the faulty equipment, leading to decreased morale and productivity.
This is where the benefits of preventative maintenance come into play. Regular high volume kitchen equipment maintenance can help identify potential issues before they become serious problems, saving you the cost and stress of unexpected breakdowns. It can also extend your equipment's life, ensuring you get the most out of your investment. In short, preventative maintenance for your food service equipment is an investment in the ongoing success of your business.
Building a partnership with Hess
Our customer's long-term wellbeing is always our top priority. Our partnership doesn't end after installing your commercial food equipment. Hess is an established service company, and our team is factory trained on your equipment.
You can expect the following when you partner with Hess:
Testimonials
We have worked with clients in the food service industry across Missouri and Illinois for over 75 years. Our clients range from universities to hospitals and senior living communities to large national restaurant chains. We're proud to provide our clients with the high-quality equipment and exceptional service they need to succeed.
"From the start, we had a really great rapport with them. I was immediately impressed with their level of sales and service support. They really took the time to make sure we were choosing the right equipment for our needs." — Michele Maue, Dairy King 
"They're really about service and taking care of clients. A lot of companies lose touch with that. Hess continues to have good values and morals — like a good business partner should." — Emmanuel "Manny" Teferi, Friendship Village
Elevate your food service operation by partnering with Hess. Experience our high-quality commercial kitchen equipment and exceptional service today. Reach out to our team of experts and let us partner with you on your journey to success.
OUR SERVICE GOES ABOVE AND BEYOND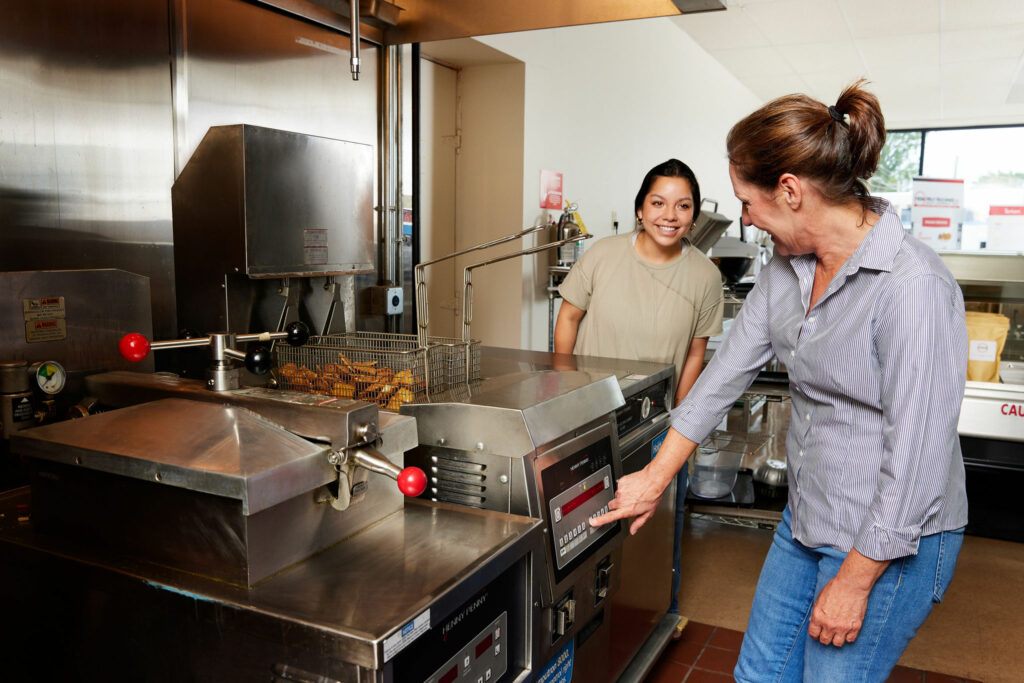 At Hess, we understand the importance of reliable, high-performance commercial kitchen equipment in the food service industry. When you invest in our equipment, you're not just purchasing a product; you're entering into a partnership with a team dedicated to your success. Our 24/7 service guarantee ensures you receive prompt, professional assistance whenever needed. We're committed to maximizing uptime and efficiency so you can focus on what you do best: delighting your customers with quality dishes.
We also invite you to join our supply line discount program, which could potentially save you up to 20% on parts, supplies, and refills, including:
Fryer cleaner, filter packets, and filter pads

Spice rub, breading, and seasoning

Patty paper for

patty presses

Bags for

commercial vacuum sealing machines

Parts and supplies for more than 15 name-brand product lines, including Henny Penny, Fri-Jado, and Hollymatic

… and much more!
Reach out today to learn more about our comprehensive range of food service equipment and start your journey toward enhanced efficiency and profitability.
Partner with Hess and experience quality equipment and dependable, exceptional service.