Creating Great Food with Next-Level Customer Service
 The Situation
When Friendship Village Chesterfield underwent a $200 million renovation in 2018, its Food & Beverage Director Emmanuel "Manny" Teferi knew this was his opportunity to take his food service equipment to the next level.
Manny needed versatile restaurant kitchen equipment to help him meet the demand of his 350-resident dining room. Knowing Hess was a leader in the food service industry, Manny purchased his first piece of equipment — a vacuum packaging machine. A few years later, Manny was on the hunt for a commercial BBQ smoker — with Hess once again being his top choice as a kitchen equipment supplier.
The Challenge
The team at Friendship Village needed commercial kitchen equipment capable of making an immediate impact in both their food preparation and preservation processes.
However, Manny discovered the industrial meat smoker he purchased was going to take some time to be delivered. He didn't think much of this at the time of ordering due to how pervasive supply chain issues were across all industries, but Hess's commitment to customer satisfaction would leave him pleasantly surprised.
The Solution
Rachel Herren, President of Hess, offered to loan Friendship Village their showroom's smoker, which they ended up using for six months until their order came in. Manny was left with a lasting impression of just how much Hess values its clients. "I truly believe their commitment to customer satisfaction was above and beyond," he said. "I'd never experienced anything like it!"
"They're really about service and taking care of clients. A lot of companies lose touch with that. Hess continues to have good values and morals — like a good business partner should."
- Manny Teferi
Pairing the new smoker with the industrial vacuum sealer was pivotal for the Friendship Village kitchen. Not only did this change allow the menu to expand to a wider variety of foods, but they also experienced less food waste and more savings. "When you cook something and you have to use it within three days, that's throwing money in the trash," Manny explained. "If I can vacuum seal food and save it for two to three weeks, now I'm using what I have."
The Results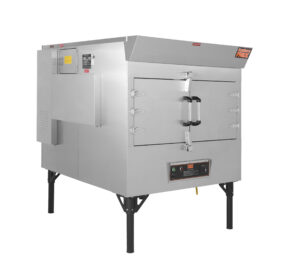 With a state-of-the-art kitchen, residents are happier (and well-fed), and Manny gets to craft a high-quality menu while knowing he's saving money. "The equipment basically pays for itself within a year or two. Plus, the resulting barbecue not only costs less, but tastes better, too," he explained.
In the end, Manny is glad to have a reliable commercial equipment company partner in Hess.