3 Food Service Industry Trends You Shouldn't Ignore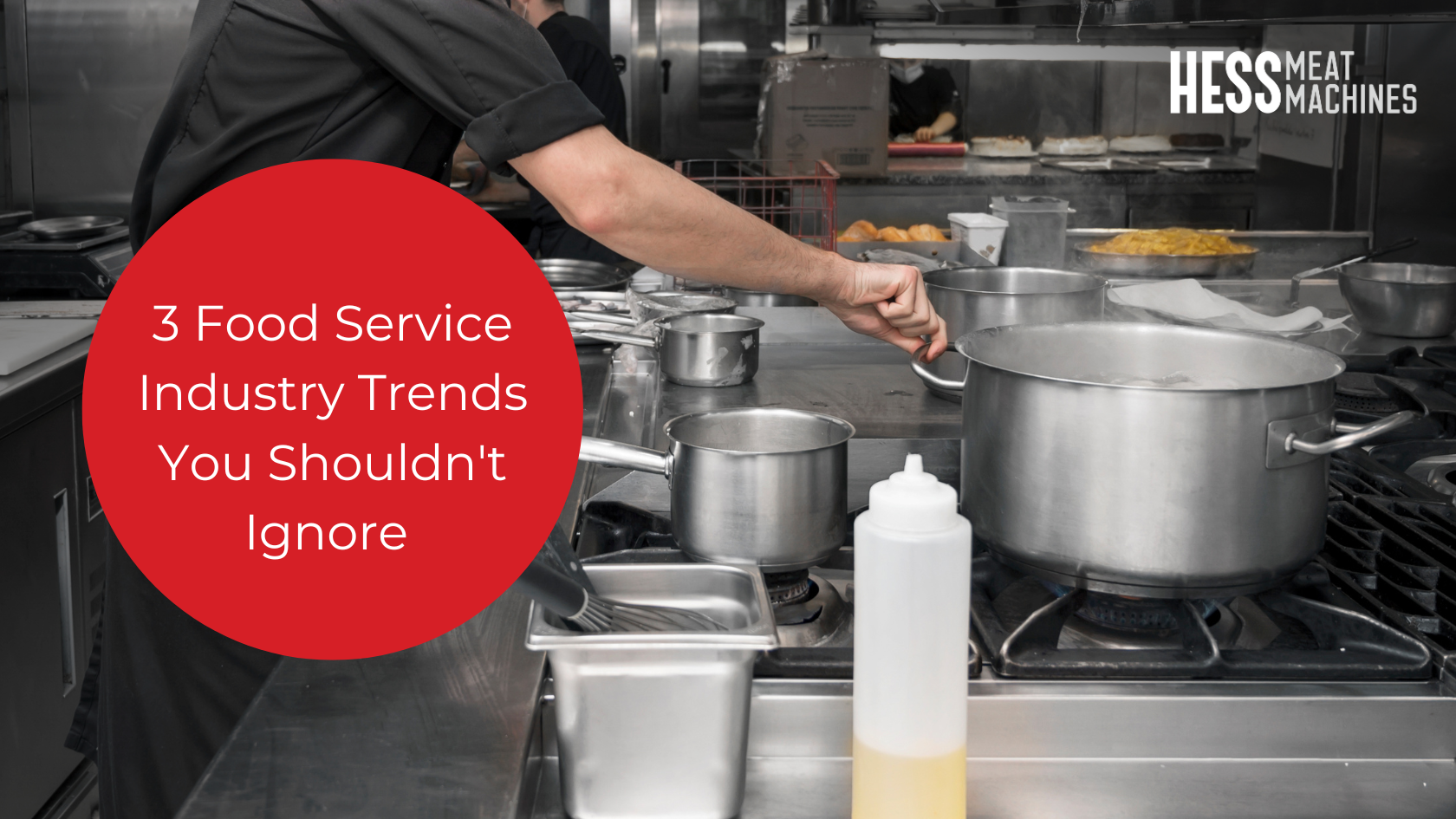 The new year is the perfect time to take stock of your business and find ways to innovate efficiency. This year, focus on making your business recession-proof and pay attention to the current trends in the food service industry that might be threatening your bottom line.
     1. Labor shortages make your staff more precious than ever
Across the country, millions of jobs remain unfilled — with the food service industry being hit harder than most. Recent U.S. Department of Commerce data finds the food service industry is struggling to retain workers, and employees are quitting at rates much higher than the national average.
So how can your kitchen make the most of the staff you have? Automatic food service equipment can do the work of multiple employees, lower stress levels, and keep productivity high. Equipment like the Hollymatic 200 Gourmet Patty Machine and Jaccard's VA200 Automatic Meat Slicer are all staples in a busy commercial kitchen or deli, while the Henny Penny FlexFusion Combi-Oven pairs multifunctionality with automatic cleaning to give you maximum flexibility while cooking. 
In the meantime, invest in training to ensure your staff is always performing at their best.
2.
Cut down on waste and avoid rising costs
Key ingredients across the board are rising in price, and the cost of necessities like frying oil has more than doubled over the past two years. Rising costs don't have to mean decreased profits — using the right industrial kitchen equipment can reduce shrink and make the most out of supplies so they go further than ever before. 
For many food service businesses, cooking oil is an essential ingredient, which makes these increased expenses difficult to avoid. One way to reduce the amount your business spends on oil is by extending the life of your product with proper filtration and oil-saving equipment, like the Henny Penny F5 Open Fryer, which uses 40% less oil than other fryers of the same size due to its simple-touch 3-minute oil filtration and automatic add backs. 
     3. Buy in bulk to get ahead of supply chain disruptions
For some ingredients, cost isn't the issue — simply finding them in stock can be the most challenging part, thanks to supply chain issues that may not resolve until 2024 or later. 
In the meantime, make sure you have what you need, when you need it, by stocking up on food service supplies. Commercial holding cabinets keep cooked food fresh without sacrificing quality, while Fri-Jado Multi-Deck Displays allow your grab-and-go offerings to stay warm and ready. Behind the counter, vacuum packaging equipment, such as the tabletop Sipromac Meat Vacuum 300, can keep raw ingredients lasting longer. 
How will you stay on top of these trends? 
Learn how to make the most of your commercial kitchen equipment and optimize your food service business. Call 800-572-4728 or email to speak with our food service industry experts today.